VIG expands reinsurance business
VIG Re has established itself in CEE as a result of its specific know-how and particular customer proximity. The new office in Frankfurt marks the beginning of an expansion into new markets.
VIG Re records
premium growth in 2017
For VIG Re 2017 was a year of controlled growth into Western Europe. VIG also plans to expand reinsurance under the Agenda 2020 programme. In addition to a gradual expansion of business in Germany, further international expansion is planned for France, Belgium, Luxembourg and Switzerland. This is aimed at steadily increasing VIG Re's premium volume, which exceeded EUR 400 million in the reporting year just ended, and increasing the premiums generated outside the Group. "The new office in Frankfurt is an important step in the planned expansion of our German business", said Johannes Martin Hartmann, Chairman of the Managing Board of VIG Re. Since the end of September 2017, customers have been served in Germany as well as Austria and Switzerland.
Business with external customers is becoming more important
VIG Re was originally founded as an internal Group reinsurance company. The business with customers outside the Group, however, is becoming increasingly important. VIG Re has established itself as an important reinsurer in CEE over the past years. "The market sees us as a new, modern dynamic player, while at the same time our Group has centuries of tradition and experience behind it and enjoys high recognition and acceptance", explained Hartmann. "Our advantages come from flat hierarchies and rapid decision-making, which our customers appreciate." VIG Re also has a competitive cost ratio, partly due to sharing a back office with other Group companies in the Czech Republic. VIG Re also benefits from the expertise of its employees in Central and Eastern Europe and the market know-how of the Group as a whole.
"Pay close attention to profitability"
The aim now is to replicate the success that has been achieved in the CEE region in Western European markets. "We are not focusing on the volume of business", stated Hartmann. "We are instead paying close attention to achieving a risk-appropriate return. We only underwrite risks that we clearly understand." VIG Re is now gradually expanding its market expertise in Western European countries. Hartmann: "We also see ourselves as a niche provider here and would like to make our know-how available to special customers and market segments."
Questions for Johannes Martin Hartmann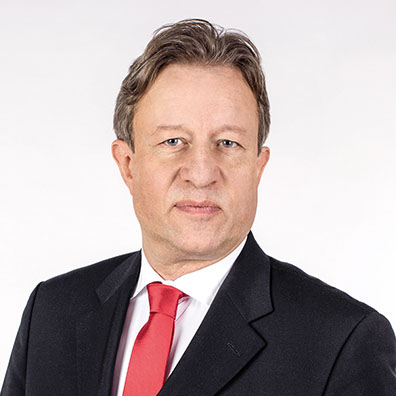 What niche will VIG Re focus on during the announced expansion?
We will mainly be aiming at companies with regional portfolios and mutual insurance associations or "Mutuelles" in France. A "cultural fit" exists with these companies and we can score points with our partner-like service and cross-border expertise.
Why is VIG Re the right partner for these customers?
Because we as well as our customers have a long-term orientation. Moreover, our streamlined costs can also help us succeed in a heterogeneous market. Other reinsurers only look for high-volume business and have difficulty with smaller companies. Looking for business in this area gives us an attractive niche market.
What is VIG Re's best success since its formation in 2008?
Definitely the fact that we were able to establish VIG Re as a top reinsurer in the region and now have around 50 employees. Our solid standing is also underscored by our A+ rating with a stable outlook by S&P.