VIG's digital vision
Projects within the Group

A pitch for VIG
Openness to new ways and ideas has always been part of VIG's corporate culture. Digitalisation makes this attitude even more important.

In 2017, VIG Holding brought VIG Xelerate to life, a programme aimed at promoting digital transformation within the Group. Group companies can now submit innovative ideas for presentation to the Managing Board on "Pitch Night". The most exciting digital initiatives will then receive financial support.
---

A cooperation with Insurance Innovation Lab in Leipzig (also see Digital transformation) allows VIG to network with start-ups and deepen its knowledge of future technologies. It also creates a framework for using new methods and solutions, such as "design thinking", in product innovations.
---

Serbian Group company Wiener Städtische Osiguranje conducted its Winners 4 Wiener programme twice in 2017, which allows employees to submit innovative ideas within a certain time frame to win prizes. This fuelled the flames of entrepreneurial spirit in the company, and six of the ideas are now being pursued.
---

A back office in your pocket
Innovative tools allow the sales department to provide even better customer service.

The Mobli app helps partners of Polish Group company Compensa to sell motor insurance. When a broker scans the QR code on a vehicle registration, the vehicle data is automatically uploaded to the "CPortal" broker portal. This allows policies to be issued more quickly. Sales terms can also be modified from a mobile device and customer-specific premiums calculated at the push of a button.
---

The Online Brokers interactive web interface of Hungarian Group company Union Biztosító helps brokerage company employees prepare offers before meeting with a customer. These can be modified in real time during the meeting. The calculations can be saved and viewed again at a later time. The application is linked to Union Biztosító's central IT system. This allows access to all customer data and related documents at any time.
---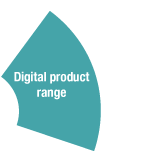 Fast and custom-tailored
That would not have been possible in the past. Digitalisation makes it possible to create innovative insurance products that benefit the customer.

Quickly use your smartphone to purchase accident insurance early in the morning before heading into the mountains – this is now possible with s Alpin-Unfall-Schutz, an alpine accident product offered by the Austrian company s Versicherung. The costs of recreational accidents, whether during hiking, mountain biking, skiing or snowboarding, are covered for EUR 4.90 per day. Coverage can be purchased with a few clicks and takes effect after 60 minutes. Insurance coverage can be purchased for one to seven days, depending on the need. The s Running-Unfall-Schutz product provides coverage for running accidents for a premium of EUR 1.90 per day. Coverage also takes effect after 60 minutes and is a good choice for those participating in running events. Consequential expenses due to broken bones or torn ligaments that occur during relaxed training runs are also covered. In addition, for all policyholders resident in Austria, immediate pay-out with no waiting period is guaranteed for the 47 most frequent types of injury. Both products were introduced to the market in September 2017.
---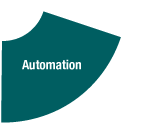 Work that handles itself
Intelligent use of technology makes background processes simpler and faster.

VIG's most comprehensive digitalisation project is taking place in Poland. Among other things, Group company Compensa is working on the use of robotic process automation, or robot technology, in its Genesis project. Extensive testing was performed in 2017, and four routine processes have been handled automatically since the beginning of 2018 – without human intervention. These include, for example, processing insurance claims submitted online and changing personal data. Other processes will follow during the course of the year. Compensa is also testing robot technology for customer communications. Computer programs, so-called bots, can independently answer questions over all channels – telephone hotline, email and messenger service. Travel insurance can also be purchased via chat.
---

Czech company Kooperativa is also relying on digital processes. It has processed all payments as non-cash payments since the beginning of 2017. This is made possible by the mobile card reading device mPOS, which, for example, allows contactless payment using NFC (near field communication) and Bluetooth – both at a business office and where the customer is located. This reduces paper consumption, while also increasing security and the speed at which payments are processed.
---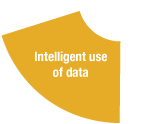 Know more, earn more
Data contains hidden treasures that can be discovered using advanced analysis tools.

Experts at the Lithuanian company Compensa developed a new risk and pricing model for motor third party liability insurance in its Dynamic Pricing advanced analytics project and integrated it into the company's internal calculation programmes that are used at the point of sale. The resulting price optimisation is helping to increase the company's profitability. The project team has already begun developing local variants of the Lithuanian model for the two other Baltic markets.
---

Czech company Kooperativa used machine learning to develop a customer lifetime value model that estimates the future profitability of individual customers. This allows targeted offers to be made during the policy renewal process. Kooperativa is therefore able to respond precisely to customer needs and reduce its lapse rate.
---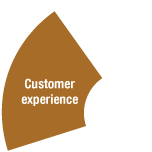 Digital helpers
Digital channels of communication offer greater service, thus strengthening customer relationships.

"Hello! I am the Wiener Städtische ServiceBot." You receive a pleasant greeting on the VIG Group company website. Wiener Städtische's ServiceBot opens up a new digital channel of communication. A chatbot (abbreviation of chat robot) provides help in a separate dialogue window. It can, for example, assist to set appointments for advisory meetings and help website visitors to find appropriate products. Although providing personal advice is still very important to Wiener Städtische, most potential customers first look for information online. Chatbots make it easier to search for information and are available around the clock.
---

Georgian Group company GPI created mygpi.ge, the first online insurance platform in the country, in 2016. Online sales are already generating around 10% of premiums. 30% of customers use the platform to handle their claims, and the amounts are often transferred within one working day. The platform also handles the needs of business customers, who can now manage their policies with a click – from overseeing group participants to handling health insurance claims.
---