Austria
Austrian insurance market
The top 5 insurance groups generated around 72% of the premium volume in Austria in the first three quarters of 2017. The two largest insurance groups generated around 45%.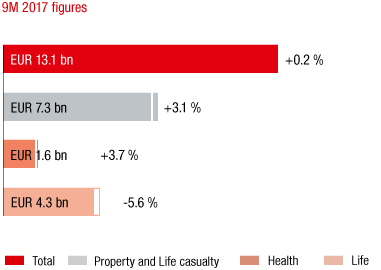 Premium volume in Austria remained close to the level of the previous year in the first three quarters of 2017. Growth rates of 3.1% in property and casualty and 3.7% in health insurance offset the 5.6% decrease in the life line of business, resulting in an overall 0.2% year-on-year increase in premiums in the Austrian insurance market.
The growth in property and casualty was mainly due to an increase in the number of policies, while average premiums have fallen in many individual lines of business. The increase of 3.7% in the motor lines of business made a major contribution to growth. Premium volume rose by 2.8% in the non-motor lines of business.
The ongoing low interest rate climate continues to have a negative effect on life insurance. Regular premiums fell 1.4%, and the single premium business fell 25.6%.
Lower life insurance premiums and a growing population caused insurance density to fall below the EUR 2,000 threshold in 2016. A per capita average of EUR 1,955 was spent on insurance in Austria, EUR 1,254 for non-life insurance and EUR 701 for life insurance.
VIG companies in Austria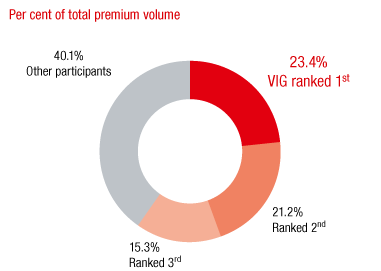 In addition to VIG Holding, the Group operates three insurance companies in the Austrian market: Wiener Städtische, Donau Versicherung and s Versicherung. Wiener Städtische also operates branches in Italy and Slovenia. Donau Versicherung is also represented by a branch in Italy. VIG Holding operates out of Austria as reinsurer of the Group and as insurer in the cross-border corporate business and is therefore assigned to the Central Functions segment.
A total market share of 23.4% makes Vienna Insurance Group the largest insurance group in Austria. It holds first place in, the property and casualty insurance market as well as in the life insurance market. VIG is ranked second in the health insurance area.
s Versicherung will be merged with Wiener Städtische in 2018, subject to approval by the boards of the Group companies and the authorities. The merger is aimed at pooling the strengths of the two insurance companies to promote the bank insurance business. The s Versicherung brand will remain unchanged in the market and will continue to act as a central hub for insurance solutions provided through Erste Bank and Sparkassen. Wiener Städtische will become by far the largest life insurance company in Austria after the merger.
Business development in Austria in 2017
Premium development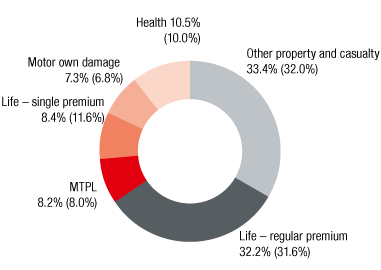 The Vienna Insurance Group companies in Austria wrote EUR 3.848,5 million in gross written premiums in 2017 (2016: EUR 3,941.3 million). This corresponds to a year-on-year decrease of 2.4% due to the reduction in single premium life business. When adjusted to this, the Austrian Group companies recorded an increase of 1.2%. Net earned premiums were EUR 3,165.1 million in 2017, representing a decrease of 2.6% compared to the previous year.
Expenses for claims and insurance benefits
The Austrian Group companies had expenses for claims and insurance benefits (less reinsurance) of EUR 3,045.4 million in 2017, or EUR 145.5 million less than in 2016. This corresponds to a reduction of 4.6% due to a smaller allocation to the mathematical reserve resulting from the decrease in single premium business.
Acquisition and administrative expenses
Acquisition and administrative expenses rose to EUR 647.3 million in 2017. The year-on-year increase of 4.6% is due to the inclusion of one-time project costs in connection with the optimisation of the bank cooperation, and increased commissions based on growth in regular premiums.
Result before taxes
The result before taxes in Austria decreased with 10.6% to EUR 175.3 million in 2017 as a result of a decrease in the financial result following one-off effects that positively affected the financial result in the previous year (2016: EUR 196.1 million).
Combined Ratio
In spite of many adverse weather events and Storm Herwart, the combined ratio (after reinsurance, not including investment income) improved in Austria to an outstanding 95.5% in 2017, primarily due to an improvement in claims development mainly in motor third party liability (2016: 97.6%).
Vienna Insurance Group in Austria

| | | | | |
| --- | --- | --- | --- | --- |
| in EUR millions | 2017 | 2016 | 2015 | 2014 |
| Premiums written | 3,848.5 | 3,941.3 | 4,055.5 | 4,077.0 |
| Motor own damage insurance (Casco) | 280.0 | 266.5 | 256.6 | 258.1 |
| Motor third party liability insurance | 316.9 | 316.0 | 320.9 | 351.5 |
| Other property and casualty insurance | 1,284.5 | 1,261.1 | 1,252.9 | 1,228.5 |
| Life insurance – regular premium | 1,240.3 | 1,246.4 | 1,248.4 | 1,247.9 |
| Life insurance – single premium | 321.9 | 456.4 | 595.5 | 622.8 |
| Health insurance | 405.0 | 394.9 | 381.2 | 368.2 |
| Result before taxes | 175.3 | 196.1 | 213.0 | 169.7 |