Romania
Romanian insurance market
The top 5 insurance groups generated around 70% of market premiums in the 1st to 3rd quarter of 2017.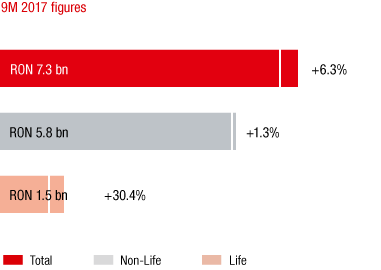 The Romanian insurance market recorded positive growth for the third year in a row. Although the growth rate slowed, premiums nevertheless rose by 6.3% year-on-year based on local currency in the first three quarters of 2017. This growth was mainly generated by life insurance.
Premiums rose moderately by 1.3% in the non-life sector. After double-digit growth in the previous year, the dominant motor third party liability line of business recorded a drop of 5.3%, mainly due to a decrease in premium rates. A new law was enacted for this sector in May 2017 that led to mandatory changes in the structure of offers, such as the introduction of a reference rate or a limit on acquisition and administrative expenses. Motor own damage insurance grew 7.9%.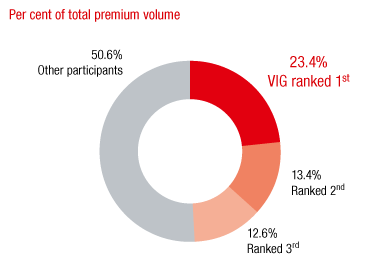 Life insurance rose by 30.4%, driven by a major 36.4% increase in unit-linked insurance.
High economic growth and a relatively low insurance density make the Romanian market attractive. Thanks to a reduction in value added tax and wage increases, Romania experienced a consumption boom in 2017. Romania had an insurance density of EUR 106 in 2016. EUR 87 of this amount was for non-life insurance and EUR 19 for life insurance.
VIG companies in Romania
In addition to AXA Life, which was acquired in 2017, Vienna Insurance Group is represented by three insurance companies on the Romanian market: Omniasig, Asirom and BCR Life.
The Group's market share of 23.4% makes it number 1 of the leading Romanian insurance groups. Vienna Insurance Group also holds first place in the non-life sector, and second place in the life sector.
Business development in Romania in 2017
Premium development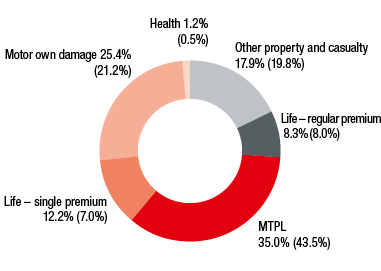 The Romanian Group companies wrote EUR 506.5 million in premiums in 2017, representing a decrease of 5.0% (2016: EUR 533.4 million). This decrease was mainly due to regulatory measures for motor insurance (reference rates). Net earned premiums were EUR 375.6 million in 2017, 7.0% higher than the previous year.
Expenses for claims and insurance benefits
The Romanian companies had EUR 248.6 million in expenses for claims and insurance benefits (less reinsurance) in 2017 (2016: EUR 246.4 million).
Acquisition and administrative expenses
Vienna Insurance Group had acquisition and administrative expenses of EUR 104.8 million in Romania in 2017 (2016: EUR 90.6 million). The increase of 15.7% compared to the previous year was due to a reduction in reinsurance commissions.
Result before taxes
The Romanian Group companies increased their result before taxes to EUR 6.2 million in 2017 (2016: 3.5) due to an improvement in the combined ratio and a one-time effect in connection with first-time consolidation of AXA Life. The 2017 result also includes an impairment of EUR 7.8 million for the Asirom brand.
Combined Ratio
The improvement in the profit situation in the motor own damage business also had a positive effect on the combined ratio, which improved to 98.6% in 2017 (2016: 100.1%).
Vienna Insurance Group in Romania

| | | | | |
| --- | --- | --- | --- | --- |
| in EUR millions | 2017 | 2016 | 2015 | 2014 |
| Premiums written | 506.5 | 533.4 | 428.6 | 339.7 |
| Motor own damage insurance (Casco) | 128.6 | 113.2 | 96.9 | 83.8 |
| Motor third party liability insurance | 177.3 | 231.9 | 160.3 | 116.4 |
| Other property and casualty insurance | 90.4 | 105.4 | 87.9 | 85.0 |
| Life insurance – regular premium | 42.3 | 42.5 | 42.3 | 35.6 |
| Life insurance – single premium | 61.8 | 37.5 | 38.3 | 18.7 |
| Health insurance | 6.2 | 3.0 | 2.9 | 0.1 |
| Result before taxes | 6.2 | 3.5 | -87.6 | 6.1 |