Overview
Our core business has always required being able to think in terms of and for many generations, assume responsibility and satisfy all of the future commitments we make to customers today. As a successful international insurance group, we want to actively fulfil our responsibility by helping create a future worth living. This section provides an insight into our extensive involvement in the area of corporate social responsibility (CSR).
The importance of insurance to society
It is difficult to imagine a modern society without insurance. It fulfils a number of important economic functions that have become integral parts of our world. These functions include, for example, the following:
Asset protection:
Purchasing insurance coverage decreases the likelihood of catastrophic losses for individuals and allows existing assets to be protected using, for example, household insurance. However, insurance protection also promotes readiness to implement new innovative business ideas. A small company that wanted to introduce an innovative product to the market would probably be too scared to do so if it could not purchase product liability insurance.
Better handling of risks:
Insurance companies have a great deal of experience in managing risks and can reduce potential losses by, for example, technical testing, plant inspections or providing advice. Insurers also perform research into the causes of losses that can be used to reduce or even prevent future losses. Prompt provision of funds to remedy primary losses can prevent consequential losses affecting other individuals or companies.
Capital accumulation:
Insurance companies also play a role in capital accumulation. Funds are created to cover insurance payments, especially for life insurance. This means that insurance companies are important providers of capital to the economy and make long-term capital available for many productive uses.
Promotion of stakeholder-oriented management:
As a rule, insurance premiums are calculated based on risk – the higher the risk, the higher the premium. As a result, extremely high risks are never even assumed in the first place. Insurance companies play a type of monitoring role in this case. This role is particularly relevant for environmental protection. Companies that could potentially be sued for environmental pollution generally purchase insurance coverage against claims for damages. Since the premium for assuming extremely high risks would be far too high, insurance companies in effect promote the use of preventive measures to avoid environmental pollution.
Relieving the state:
Purchasing insurance protection also provides a public benefit. Individuals purchase insurance products to make personal provision for their old age or cover risks in their day-to-day lives. When this is not done, and individuals suffer losses they are unable to bear themselves, then the loss generally has to be covered by the state, i.e. taxpayers.
Sustainable success
The Group's roots reach back to the year 1824, when the oldest of the three companies was formed in Austria that subsequently led to the current Wiener Städtische company and then to Vienna Insurance Group. In 1990, the Company was among the first Western European insurance companies to recognise and take advantage of the favourable political turning point in Eastern Europe and the growth opportunities that were offered by venturing into the market in the former Czechoslovakia. Further expansion followed – while applying good judgement and assessing the opportunities and risks – throughout the entire CEE region. The Group is now represented by around 50 insurance companies in 25 countries. Careful, risk-conscious corporate management and the tireless commitment of our local employees are the reasons why VIG holds a leading position in many of its markets. This success story has been guided at all times by long-term thinking, responsible action and efforts to combine business and social goals, and this will continue to be the case in the future.
Stable ownership
Around 30% of VIG shares are in free float and the remaining 70% are held by Wiener Städtische Versicherungsverein, the principal shareholder of Vienna Insurance Group. This principal shareholder shares VIG's business values and has an interest in the long-term, sustainable and successful performance of the Group. As a result, Vienna Insurance Group does not need to take actions aimed solely at short-term performance, but can, for example, remain in a market that is experiencing temporary difficulties but nevertheless has a great deal of long-term potential. Wiener Städtische Versicherungsverein also provides assistance to Vienna Insurance Group for cultural and social concerns in accordance with its articles of association. Great importance is placed on cross-border cultural exchanges, and on cooperations and initiatives that provide support for socially active organisations.
Sustainability indices
VIG was included in the FTSE4Good and VÖNIX indices in 2016:
FTSE4Good
The FTSE4Good index was developed to highlight companies implementing far-reaching measures in the environmental, social and governance area. VIG shares were included in this global index in the middle of 2007.
VÖNIX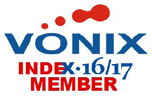 The first Austrian sustainability index, VÖNIX, comprises listed Austrian companies that are leaders in social and environmental performance. Vienna Insurance Group shares have been included in this index since the middle of 2005.
ORGANISATIONAL INTEGRATION OF CSR
VIG feels that CSR concerns the Group as a whole and has therefore made it a Managing Board responsibility. A CSR Officer exists at the holding company level in the General Secretariat, which is directly below the Managing Board. The CSR Officer is responsible for coordination within the Group and consults on a variety of topics with the responsible individuals in corporate headquarters and with contacts at the major Group companies outside Austria. Progress on these topics is ensured by a continuous exchange of information and by workshops in which information is shared.