Customer proximity using a regional, decentralised structure
What is the key difference between Vienna Insurance Group and its competitors? VIG's multi-brand strategy sets it apart. During its expansion, the Group decided to retain well-established brands that already enjoyed good customer recognition. This means that VIG operates with more than one company and/or brand in most of its markets. The individually tailored market presence of each of the companies allows them to address different target groups and design different product portfolios.
VIG's decentralised structure and rapid decision-making also set it apart. Customer needs vary widely from region to region due to differences in culture, experience and economic conditions. Vienna Insurance Group relies on its local management and employees, as they know their customers the best, thereby ensuring the best possible products and distribution based on local circumstances. This is important because needs-based product and service design plays a key role in our ongoing efforts to reach high customer satisfaction. Adequate freedom of action also allows the managers to react quickly to market changes and promote product and service innovations. Vienna Insurance Group feels this creates true customer proximity.
A number of examples are presented below in which Vienna Insurance Group companies have developed special products and services for their customers.
Be where the customer is
Insured in seconds. Since 2015, the Polish Group company Compensa has offered immediate purchase of motor policies using any form of mobile device, including its own terminals, under its Benefia brand for non-life products. Mobile terminals are located at post offices, cooperating banks, supermarkets, etc. After approval by the customer, the QR code on the vehicle registration is scanned to collect all relevant vehicle data. An offer is then immediately made with a variety of modules that can be chosen. If the customer chooses a policy, it can be purchased immediately and paid for using a credit or debit card.
This is just one example of how Benefia is successfully realising its vision to always be where the customer is. It developed its first online insurance system ("CSOU") in 2000, which was followed five years later by the Benefia24 online portal. The company sold its first policy via a smartphone in 2015. And the company is still working to ensure it is one step ahead for its customers in the future.
Immediate benefits when cancer is diagnosed
One in four Austrians will be confronted with a diagnosis of cancer during their lifetimes. In addition to great emotional impact, this also frequently leads to additional expenses, e.g. for household help, childcare, special methods for improving tolerance to chemotherapy and radiotherapy, etc. The new cancer policy available from the Austrian Group company Donau Versicherung since January 2016 offers immediate benefits when malignant cancer is diagnosed.
The insured can also obtain a second medical opinion from internationally renowned experts, which can improve treatment outcomes. Donau Versicherung is the first company in Austria to work as a partner with MediGuide, a US company that has operated worldwide for 16 years and established itself as a leading provider of medical second opinions. Customers can easily obtain a professional second opinion from leading international doctors that can then be discussed with the treating doctor.
Fully personalised life insurance
Simple, easy to understand and with many options – these few words sum up the new "NA PŘÁN͔ life insurance policy offered by the Czech Group company Kooperativa. Customers can decide whether their priority is financial investment or coverage for biometric risks, such as nursing care or occupational disability. The product particularly provides coverage for many support measures in the case of severe accidents leading to serious permanent disability, such as physiotherapy costs, medical aids, vehicle modifycations, nursing care, etc. One special feature of this product is the option to choose your own name for the product, which is then used when communicating with the customer.
Listen, discuss and provide solutions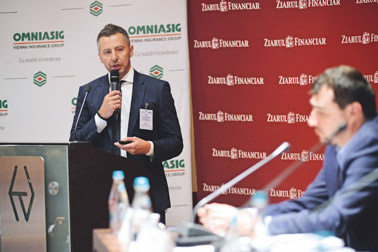 How can insurance support local economic development? The Romanian Group company Omniasig is discussing this issue in the series of conferences that it jointly organises with the most reputed financial daily newspaper Ziarul Financiar. Corporate customers, brokers, government officials and other partners have been invited to these conferences since 2015 held in many regions of Romania. They come both as guests and as speakers. Omniasig wants to increase public knowledge about insurance and underline its importance for sustainable economic development. At the same time, it wants to show that Omniasig's range of also customised insurance solutions for its customers can contribute to local economic progress. The company plans to continue these events in 2017 and hold a conference in the Romanian capital of Bucharest to summarise the knowledge gained from these discussions.
Changes in Slovakian towns and cities
The Slovakian Group company Komunálna has been a long-time insurance partner for the country's municipalities. The company currently offers a special product for the association of cities and municipalities of Slovakia ("ZMOS"). The product is a policy for revitalising projects in towns and cities that receive EU subsidies and improving the infrastructure and therefore the quality of life of the people living there. Streets, pavement, water supply systems, waste disposal sites, parks, etc. are being revitalised for up-to-date modern use. The mayors concerned highly value the contribution that Komunálna is making with its tailor-made insurance product.
A special insurance package for a second chance
A bank that tries to lose customers instead of gaining them – is there such a thing? Yes, for 10 years the Zweite Sparkasse and its seven branches throughout Austria have been providing accounts and extensive financial advice to people in financial difficulty, with the goal of quickly making them customers of a regular bank once again. The bank is managed by around 400 volunteer employees and was founded by Erste Group in 2006 using funds from the non-profit ERSTE foundation. Around 14,000 people have been served since then.
Wiener Städtische has been a cooperation partner of Zweite Sparkasse almost from the beginning. At the initiative of Wiener Städtische Versicherungsverein, the Austrian Group company Wiener Städtische offers an insurance package to customers of the bank that is tailored to their needs. Basic insurance coverage is offered, providing free legal advice once every quarter, together with free accident insurance. Household insurance may also be purchased for a monthly premium of only EUR 3.