Slovakia
Slovakian insurance market
More than half of the Slovakian insurance market was covered by the two largest insurance companies in 2016. The top 5 insurance groups generated around 80% of market premiums.
Premium volume rose 1.4% year-on-year in Slovakia in 2016. The increase was due to good premium growth in the non-life business, which increased 5.5% in 2016. Life insurance premiums, on the other hand, fell 2.0% compared to the previous year.
The Slovakian parliament approved a change in the law in November 2016 that will have a major effect on the non-life insurance market. The 8% tax that currently only applies to motor third party liability insurance will be extended to all non-life products in the future, which could have a direct effect on the profitability of insurers. The new legislation applies to policies from 1 January 2017.
Slovakia had an average insurance density of EUR 408 in 2015. EUR 185 of this amount was from non-life insurance and EUR 223 from life insurance.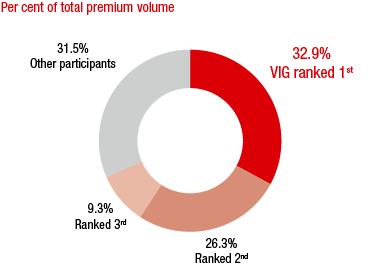 VIG companies in Slovakia
Vienna Insurance Group is represented by three insurance companies in Slovakia: Kooperativa, Komunálna and PSLSP.
Vienna Insurance Group's market share of 32.9% in 2016 makes it the leading insurance group in the country. The Group holds second place in the non-life insurance market and first place in life insurance.
Business development in Slovakia in 2016
Premium development
VIG wrote EUR 732.34 million in premiums written in Slovakia in 2016 (2015: EUR 716.50 million). This corresponds to a year-on-year increase of 2.2% that is primarily ue to good growth in the motor lines of business. Net earned premium volumes were EUR 597.91 million, representing an increase of 3.7%.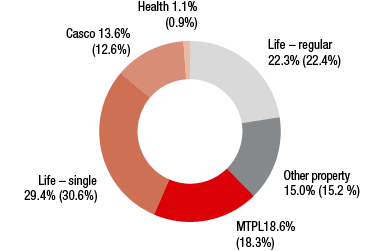 Expenses for claims and insurance benefits
Expenses for claims and insurance benefits (less reinsureance) were EUR 491.82 million in 2016. This represents a year-on-year increase of 4.6%, which was mainly due to large losses in motor third party liability and fire insurance.
Acquisition and administrative expenses
VIG recorded EUR 100.41 million in acquisition and administrative expenses in Slovakia in 2016 (2015: EUR 98.65 million). The increase of 1.8% essentially corresponds to the increase in premiums.
Result before taxes
The Slovakian companies earned a profit before taxes of EUR 48.88 million, corresponding to a year-on-year decrease of 5.8%. Although there was an improvement in the current technical result, this was not enough to compensate for a positive one-time effect of around EUR 4 million in 2015 due to settlement of prior claims.
Combined ratio
The Vienna Insurance Group combined ratio improved to 94.9% in 2016 (2015: 96.2%).
Vienna Insurance Group in Slovakia

| | | | |
| --- | --- | --- | --- |
| in EUR million | 2016 | 2015 | 2014 |
| Premiums written | 732.34 | 716.50 | 726.99 |
| Motor own damage insurance | 99.48 | 90.10 | 88.02 |
| Motor third party liability insurance | 136.47 | 131.11 | 132.08 |
| Other property and casualty insurance | 109.79 | 109.09 | 104.86 |
| Life insurance – regular premium | 163.18 | 160.16 | 157.20 |
| Life insurance – single-premium | 214.97 | 219.38 | 238.69 |
| Health insurance | 8.45 | 6.65 | 6.14 |
| Result before taxes | 48.88 | 51.87 | 59.45 |