Slovakia
Slovakian insurance market
Due to the fact that Slovakia no longer publishes detailed market data, the market shares of the market participants relate to 2014. With regard to premium development, the values published for 2015 were used.
Around half of the Slovakian insurance market was covered by the two largest insurance companies in 2014. The top 5 insurance groups generated a total of around 80% of market premiums.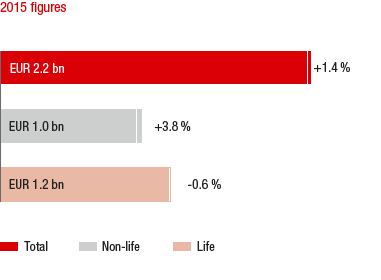 The Slovakian insurance market was able to achieve premium growth of 1.4% in 2015.
In 2015, in non-life insurance, premiums written increased by 3.8%. The increase is mainly a result of positive development in property and casualty insurance (+5.9%). The motor line of business was able to achieve a moderate growth of 2.1%. In the area of motor third party liability insurance, there is still a great deal of competition in the Slovakian insurance market.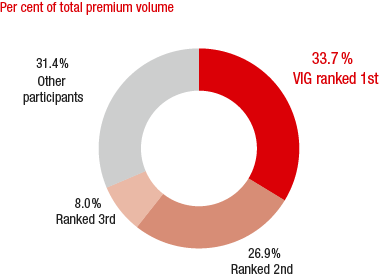 During 2015, as a result of the changes to the law on motor third partly liability insurance, a "bonus/malus" system was introduced and regulated. Previously, the insurance companies active on the market offered the system only on a voluntary basis.
The area of life insurance experienced a 0.6% decrease in 2015. Here the demand for investment and capital products shifted toward pure risk life insurance.
Average per capita expenditure for insurance in Slovakia was EUR 403 in 2014. Of this EUR 178 was spent on non-life insurance and EUR 224 on life insurance.
VIG companies in Slovakia
Vienna Insurance Group is represented in Slovakia by three insurance companies Kooperativa, Komunálna and PSLSP.
With a market share of 33.7% in 2014, Vienna Insurance Group is the largest insurance group in the country. The Group holds second place in Slovakia in the area of non-life insurance and first place in life insurance.
Business development in Slovakia in 2015
Premium development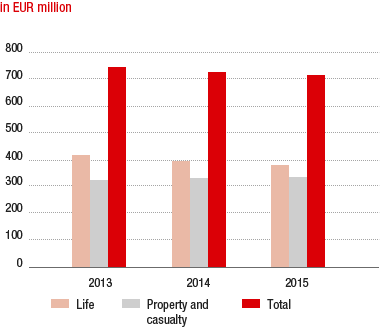 Vienna Insurance Group recorded EUR 716.49 million in premiums written in Slovakia in 2015 (2014: EUR 726.99 million), a decrease of 1.4%. Net earned premiums were EUR 576.54 million, which represented a decrease of 3.4%.
In property and casualty insurance, the Slovakian VIG companies increased their premium income by 1.8% to EUR 336.95 million.
Although bank distribution through the local Erste Group subsidiary developed in a positive way with a growth of 7.7% in comparison with the previous year, the Slovakian Group companies overall recorded premiums written in the area of life insurance of EUR 379.54 million, 4.1% less than in the previous year (2014: EUR 395.89 million). This decline is the result of lower demand for single premium products from the Slovakian Group company Kooperativa as a result of the low interest rate level.
Expenses for claims and insurance benefits
Expenses for claims and insurance benefits (less reinsurance) were EUR 469.97 million in 2015. This was a decrease of 2.3% over the previous year.
Acquisition and administrative expenses
VIG recorded EUR 98.65 million in acquisition and administrative expenses in Slovakia in 2015 (2014: EUR 91.44 million). The increase of 7.9% is mainly the result of significantly higher commission rates because of the changes in the product portfolio in the area of life insurance, as well as increased brokerage distribution in the area of property and casualty insurance.
Profit before taxes
Profit before taxes in the Slovakian companies totalled EUR 51.87 million. The decline of 12.8% is mainly the result of increased motor claims because of poor weather conditions and several major claims.
Combined ratio
The combined ratio of Vienna Insurance Group in Slovakia was 96.2% (2014: 91.3%) because of the increased motor claims and major claims, mentioned above.
Vienna Insurance Group in Slovakia

| | | | |
| --- | --- | --- | --- |
| in EUR million | 2015 | 2014 | 2013 |
| Premiums written | 716.49 | 726.99 | 744.67 |
| Life | 379.54 | 395.89 | 418.57 |
| Property and casualty | 336.95 | 331.10 | 326.10 |
| Profit before taxes | 51.87 | 59.46 | 55.26 |