A good strategy lays the foundations for business success.
Guidelines for a successful future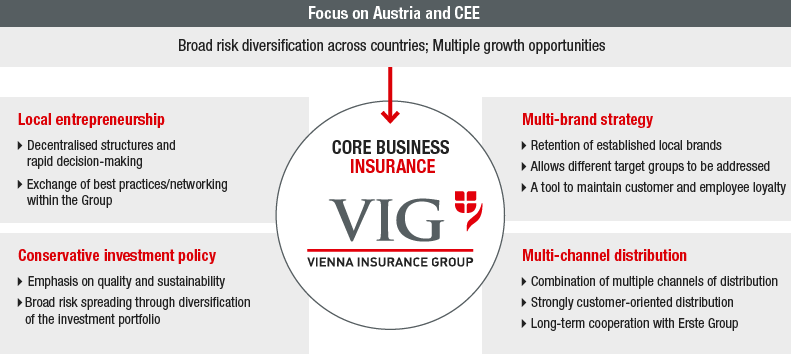 The VIG strategy is based on continuity and stability, and clearly sets the Group apart from its competitors.
"Strategy is an economy of force" is a quote from Prussian General Carl von Clausewitz. It focuses energy and defines boundaries. Without knowing what you want to do, you will lose yourself in the multitude of options. VIG is in no danger of this, as it continues to hold on to its proven strategy. The core business of insurance is as clearly defined as the regional focus on Austria and Central and Eastern Europe. These two central strategic elements are supplemented by four management principles. The Group uses local entrepreneurship to deal with the regional differences between its 25 markets. Conservative investment forms the basis for responsible handling of customer funds. Then there are two "multis" – a multi-brand strategy that allows different customer groups to be addressed and multi-channel distribution that combines the strength of our own sales forces with professional partners. One example is Erste Group, which has a mutual sales agreement with VIG.
The multi-brand strategy clearly separates VIG from its competitors. During its expansion, the Group decided to retain well-established brands that already enjoyed good customer recognition. The result is that VIG operates with more than one company and brand in most of its markets. The individually tailored market presence of each of these companies allows them to address different target groups and design different product portfolios.
Another special feature of VIG is its decentralised structures and rapid decision-making, which allows it to react quickly and flexibly to market circumstances. The Group is guided by the principle "think globally, act locally", namely local entrepreneurship instead of centralised Group management. This means more freedom for local management, which best understands the particular needs and requirements of the market, but also considerably more responsibility. Each country is assigned to a VIG Managing Board member who regularly consults directly with local management. As a result, the listed holding company manages the Group on a partnership basis with the Group companies.
Exploiting potential using a differentiated approach. VIG is convinced of the great potential offered by the CEE region (see article Further growth to come). The goal and challenge of future years is to take advantage of this potential. However, this does not mean that VIG tries to step up the pace in all of its markets. Instead it uses a highly differentiated approach that takes account of the different phases of market growth. It has been evident that the potential of the CEE region has not materialised at all times in all markets. Instead, growth takes place in stages and in different ways. VIG therefore uses a differentiated approach to its markets. In countries experiencing dynamic growth, the full strength of existing distribution channels is used in order to grow all lines of business. In countries with difficult economic situations or strong competition that make growth appear almost impossible, it makes little sense to try to force premium increases at all costs. During these quiet market phases, VIG promotes sales in high-margin business areas and selects the risks it assumes accordingly. A primary focus is then placed on costs, particularly in the area of administration.
This has the pleasing side-effect of diversifying risk across country borders. The portfolio always includes markets that are expanding and those that are in a quiet phase. Any reductions in premiums in one region can be compensated by growth in another.
Sustainable growth. VIG aims for sustainable profitable growth. The Group strictly follows this motto, which also naturally means not acquiring new business unless it is profitable. This applies, for instance, to the motor-vehicle line of business, which is highly contested in CEE markets, and to single premium life insurance in the current interest rate environment.
Our careful pricing policy is complemented by a conservative investment policy. In view of the historically low level of interest rates and the resulting drop in returns, it would naturally be one option to follow the path of switching to higher risk investments with potentially higher returns. This is, however, out of the question for VIG. Investing customer funds is one of the key duties of the Group and demands great responsibility. A good investment strategy can be seen by the fact that it does not lead to any sudden changes.
The human factor. VIG very quickly recognised that only good employers can attract appropriately qualified and motivated personnel. VIG also offers security and stability in this area, by combining a wide variety of career opportunities with an international business environment. VIG actively promotes the talent and skills of its employees, as this is the only way it can actually realise its strategic guidelines.