HR news
Silver at Best Recruiters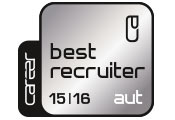 For the second time, VIG Holding has been rewarded with the silver label by Career's Best Recruiters. This study evaluates around 500 Austrian companies each year. It looks at how the companies present themselves, and how they address and treat job candidates. The award reflects the success of the Human Resources strategy VIG introduced to position itself as an employer of choice. The award once again recognises the efforts of the VIG HR Management team in terms of presence at career events and on career websites, and the high level of service provided during candidate management.
Georgia: GPI sets HR trends
In 2015, the HR and Marketing department of Georgian Group company GPI organised an exclusive conference for the HR managers and CEOs of their corporate customers from a total of 80 companies. The speakers included many Georgian and international experts. GPI used this to position itself in Georgia as a pioneer in the area of HR management and as a strong business partner. VIG's competence model, which focuses on the development of various employee groups, was also presented. The event was highly praised by everyone in attendance, as well as the media.
Women power
~60% percentage of women
VIG had an average of 23,000 employees in 2015, with approximately 56% in the field sales force and around 44% in administration. Approximately 60% of the employees in the Group are women. The share for the Managing Boards of VIG insurance companies is around 22% and at the next management level below approximately 40%.