Austria
Austrian insurance market
In comparison with other Western European insurance markets, the share of total premium volume accounted for by non-life insurance is relatively high, in Austria at just over 60%. There is therefore still significant potential for growth in life insurance.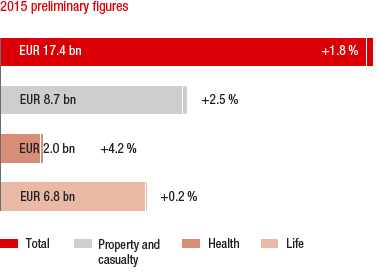 In 2015, premium income of Austrian insurance companies increased by 1.8%. The highest level of growth was in health insurance, with a rise of 4.2%, followed by property and casualty insurance (+2.5%) and life insurance (+0.2%).
The premium growth in property and casualty insurance results primarily from the positive performance of casualty insurance, which recorded an increase of 3.9% in comparison with the previous year.
In the area of life insurance, provisions remain an important topic in Austria. In 2015, pension insurance increased by 7.7%. Nursing care insurance is increasing in importance each year and achieved significant growth of 24.6% in 2015.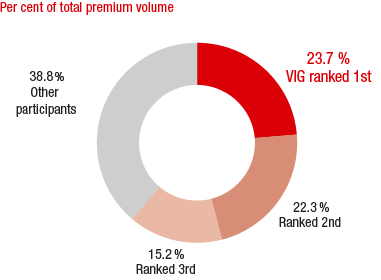 The trend towards decreasing interest rate levels continued in 2016. The guaranteed interest rate (the maximum that may be guaranteed to policy holders) was therefore reduced from 1.5% to 1.0% for new life insurance policies at the beginning of 2016.
In Austria in 2014, the average premiums per capita totalled EUR 2,007. Of this, EUR 1,216 was accounted for non-life insurance and EUR 791 for life insurance.
VIG companies in Austria
VIG is represented in the Austrian market by the three insurance companies, Wiener Städtische, Donau Versicherung and s Versicherung. VIG Holding operates out of Austria as an international reinsurer and an insurer in the cross-border corporate customer business, however, it is assigned to the Central Functions. Wiener Städtische also has branches in Italy and Slovenia. In addition, Donau Versicherung has a branch in Italy.
VIG's total market share of 23.7% in 2015 makes it the leading insurance group in Austria. VIG is also the market leader in property and casualty insurance with a market share of 21.8%, and in life insurance with 27.3%. VIG holds a second place in the area of health insurance.
Business development in Austria in 2015
Premium development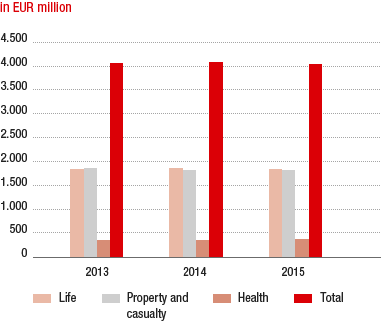 The Austrian Group companies generated gross written premiums totalling EUR 4,055.53 million. In comparison with the previous year, this represents a slight decrease of 0.5%. EUR 2,386.03 million of the premium volume was contributed by Wiener Städtische, EUR 811.71 million by Donau Versicherung and EUR 857.79 million by s Versicherung. Net earned premiums in 2015 were at the same level as the previous year, at EUR 3,370.00 million.
EUR 1,830.43 million of the premiums written, or 45.1% were generated in property and casualty insurance. This was a decrease of 0.4% compared with 2014, due to further optimisation measures in the motor insurance business of the Donau branch in Italy.
Life insurance contributed EUR 1,843.91 million and a share of 45.5% in premium volume, although in Austria the Group generated 1.4% less than in the previous year as a result of the restraint in the single premium business.
Health insurance generated 9.4% of the premium volume, or EUR 381.19 million. This corresponds to an increase of 3.5% compared to the health insurance premium income of EUR 368.16 million in 2014.
Expenses for claims and insurance benefits
Expenses for claims and insurance benefits less reinsurance totalled EUR 3,361.95 million in 2015. This corresponds to an increase in expenses of 1.3%.
Acquisition and administrative expenses
The acquisition and administrative expenses for the Austrian VIG companies in 2015 were reduced by 4.5% to EUR 599.24 million.
Profit before taxes
Profit before taxes increased in 2015 in Austria by 25.5% to EUR 212.97 million (2014: EUR 169.73 million). A significant factor in this considerable increase was the sale of an indirect participation.
Combined ratio
The combined ratio in Austria (after reinsurance, not including investment income) improved to 97.5% in 2015 (2014: 99.9%) despite higher levels of weather-related claims.
Vienna Insurance Group in Austria

| | | | |
| --- | --- | --- | --- |
| in EUR million | 2015 | 2014 | 2013 |
| Premiums written | 4,055.53 | 4,076.99 | 4,073.88 |
| Life | 1,843.91 | 1,870.74 | 1,844.52 |
| Property and casualty | 1,830.43 | 1,838.09 | 1,871.93 |
| Health | 381.19 | 368.16 | 357.43 |
| Profit before taxes | 212.97 | 169.73 | 235.09 |