Romania
Romanian insurance market
Compared with other insurance markets, Romania has a lower market concentration. The top 5 insurance groups generated just below 60% of total premiums in 2015.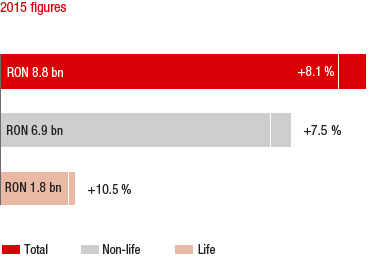 The premiums written in Romania increased by 8.1% in 2015 based on local currency in comparison with the same period of the previous year.
The area of non-life insurance saw a growth of 7.5% in comparison with the previous year. The growth is based mainly on an increase in motor third party liability insurance, which gained 17.6% as a result of rising average premiums. In addition, the premiums in property and casualty insurance rose slightly.
In 2015, the life insurance market grew by 10.5%. The significant increase in premiums results primarily from an increase in unit-linked and index-linked life insurance.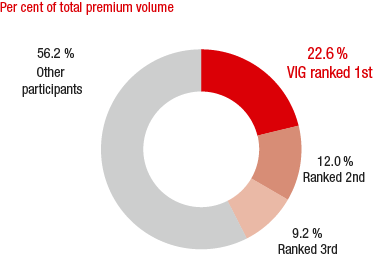 Insurance density in Romania in 2014 was just EUR 91. EUR 73 of this amount was for non-life insurance and EUR 19 for life insurance. A comparison with other countries in the CEE region, such as the Czech Republic, which had an insurance density of EUR 527 in 2014, shows the enormous potential of the Romanian insurance market.
VIG companies in Romania
VIG is represented by three insurance companies in the Romanian market. In addition to Omniasig and Asirom, BČR Life is also part of Vienna Insurance Group. Vienna Insurance Group's market share of 22.6% in 2015 makes it the leading insurance group in Romania. In non-life insurance, too, VIG has taken the top spot in the market. In life insurance, the Group holds second place.
Business development in Romania in 2015
Premium development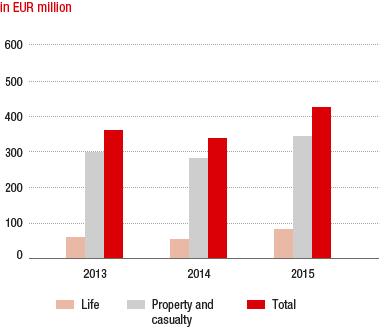 Premiums written increased by 26.2% in Romania to EUR 428.63 million in 2015 (2014: EUR 339.67 million). In 2015, net earned premiums totalled EUR 265.02 million, 43.7% higher than the figure for the previous year.
As a result of increased new production, mainly due to increased average premiums in the motor lines of business, a significant rise was recorded in the area of property and casualty insurance from 21.4% of premiums written to EUR 346.44 million (2014: EUR 285.31 million).
In the area of life insurance, the premium income generated by the Romanian VIG companies increased to EUR 82.20 million. (2014: EUR 54.36 million). The significant growth of 51.2% came mainly from the positive performance of bank distribution of unit-linked and index-linked products via the local Erste Group subsidiary BČR.
Expenses for claims and insurance benefits
The Romanian companies had EUR 176.24 million in expenses for claims and insurance benefits (less reinsurance) in 2015 (2014: EUR 123.68 million). The increase of 42.5% in comparison with the previous year is due to the allocation of claims reserves in the motor business, and to allocations in the unit-linked and index-linked life insurance area due to the significantly increased business volume.
Acquisition and administrative expenses
The acquisition and administrative expenses of Vienna Insurance Group in Romania for 2015 totalled EUR 85.69 million (2014: EUR 74.29 million). This is 15.3% more than the previous year. This development results from higher commission expenses due to higher business volume in both the motor business and unit-liked and index-linked life insurance.
Profit before taxes
Profit before taxes fell during 2015 in comparison with the previous year by 7.1% to EUR 5.65 million. The drop results in particular from the decline in BČR Life's financial result.
Combined ratio
The combined ratio improved considerably compared with the previous year, although at a level of 102.4% it was still above the 100% mark (2014: 105.0%).
Vienna Insurance Group in Romania

| | | | |
| --- | --- | --- | --- |
| in EUR million | 2015 | 2014 | 2013 |
| Premiums written | 428.63 | 339.67 | 361.80 |
| Life | 82.20 | 54.36 | 61.84 |
| Property and casualty | 346.44 | 285.31 | 299.95 |
| Profit before taxes | 5.65 | 6.08 | ‑98.70 |