Focusing on important issues
Identifying Material social and environmental topics
In order to assume responsibility, the Company must first know its stakeholders' expectations. Doing this makes it possible to consider sustainability management from a strategic viewpoint and focus on material issues.
To ensure that VIG, with its many important social connections, did not lose itself in the broad area of social responsibility, the Group set out to involve major stakeholders in identifying the main social, environmental and economic issues for the Group. A multi-stage analysis process was initiated so that VIG's social contribution cannot only be identified, but also checked for significance with stakeholders, amended and improved.
To begin the process, a list of potentially relevant CSR topics was prepared from the following sources: statutory requirements, criteria based on international standards, analysis of internal documents, reports by international peers and requirements for sustainability ratings. This was followed by an internal workshop where the individual issues were examined for relevance to Vienna Insurance Group and assigned to separate topic areas.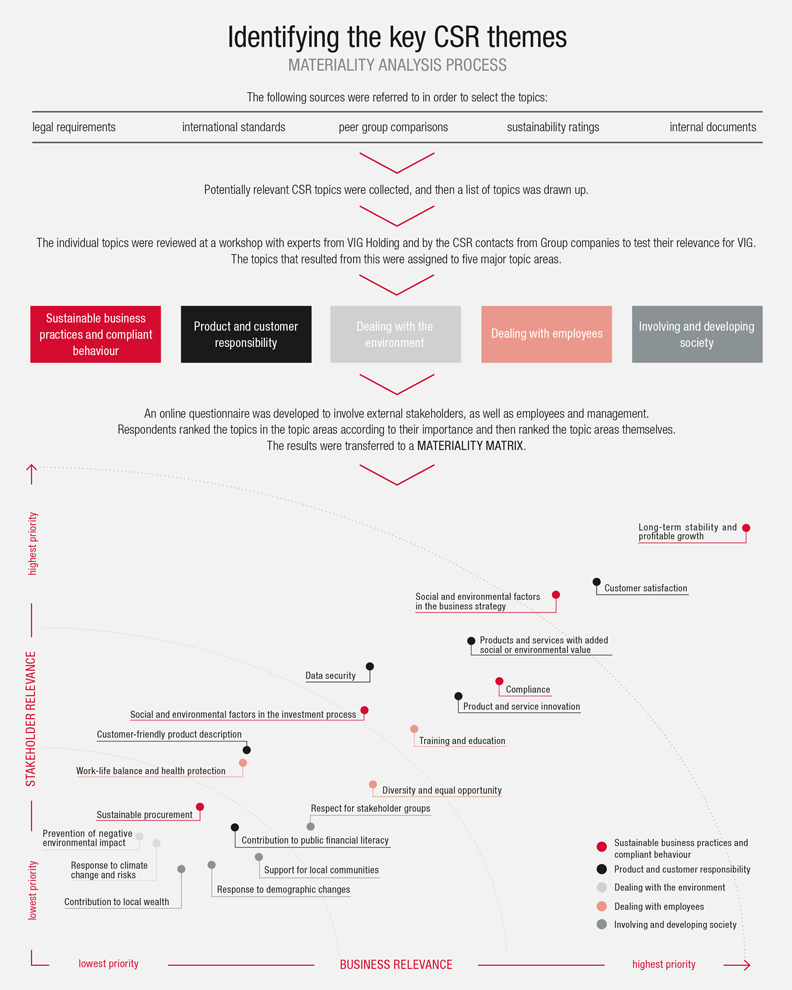 Online survey
In the middle of September 2016, an online questionnaire based on this preliminary work was sent to internal stakeholders (employees, management) and external interest groups, consisting of large clients, distribution partners, investors, analysts, political stakeholders, NGOs, various experts, the media and suppliers. The questionnaire asked respondents to rank the collected topics in the topic areas according to their importance for future sustainability reporting, and then to rank the topic areas themselves. Major topic areas included "sustainable business practices", "product and customer responsibility", "dealing with the environment", "dealing with employees" and "involving and developing society", each with between two and six sub-topics. Around 770 respondents took advantage of the opportunity to provide their opinions.
Materiality matrix
The results of the survey were entered into a materiality matrix (see chart on page 21). One axis (stakeholder relevance) shows employee and external stakeholder results, and the other axis (business relevance) shows management answers. The colours indicate the topic area to which each topic belongs.
The linear distribution of topics in the matrix does not have any major outliers at the upper left or lower right, indicating close agreement between the weightings and priorities of management versus employees and external stakeholders. Both groups rated long-term stability and profitable growth in the "sustainable business practices" topic area as the most important issue for corporate social responsibility. Customer satisfaction took second place, followed closely by social and environmental factors in the business strategy.
Vienna Insurance Group considers the stakeholder survey and assessment of the materiality of topics to be the first step in the Group's future development with regard to CSR. The materiality matrix provides important guidance for future direction.