Social responsibility
Active social involvement has a long tradition in the Group. For this reason, support is given to social programs and projects dedicated to the socially less fortunate. The VIG principal shareholder developed some of its own initiatives in previous years to promote the social involvement of employees and Group companies and bring the volunteers into the limelight. In addition, the "Carer with a Heart" initiative organised by Wiener Städtische Versicherungsverein and Wiener Städtische created awareness of the topic of nursing care and the future challenges it brings.
Social Active Day – motivation for a good cause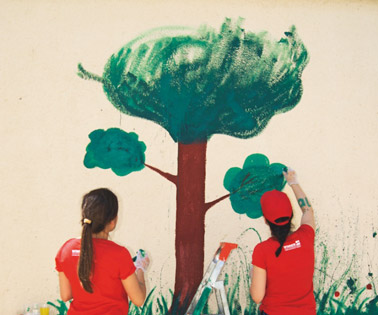 Thousands of VIG employees send a powerful message for more solidarity on Social Active Day. Under this initiative, employees who want to become involved with a good cause or social organisation are generally allowed to spend one working day of their time on such activities. This initiative was brought to life in 2011 by VIG's principal shareholder, Wiener Städtische Versicherungsverein, and quickly became a success. Around 4,400 employees from Group companies in 20 countries participated in 2016. The Group supported a wide range of projects and social organisations that also differed greatly across regions. Homeless shelters and initiatives, nursing homes, children's aid programmes, environmental protection programmes, refugee facilities and many more received active support. The associations and projects are happy to be given a helping hand, and employees gain new experiences while doing good.
Award in recognition of commitment to voluntary activities – the unsung heroes of the Group
Since 2013, the principal shareholder of Vienna Insurance Group has awarded an award in recognition of commitment to voluntary activities to honour Group employees who volunteer their free time to help others in a special way. Nominations for this award are made by fellow employees, and a jury selects the winners from the many nominations submitted. The jury chose ten impressive individuals from Austria and the CEE region in 2016. Wiener Städtische Versicherungsverein invited these unsung heroes of the Group to a ceremony in the Vienna headquarters, the Ringturm building, to honour them for their outstanding service. The winners also enjoyed a pre-Christmas weekend in Vienna with a busy programme of cultural events.
Günter Geyer Award for Social Conscience – acts of special compassion
Since 2012, Vienna Insurance Group's principal shareholder has honoured VIG companies that show exceptional social involvement with an award named after its General Manager. This annual award – which is awarded in Gold, Silver and Bronze – is both a way to thank the companies and motivate them to continue. The prize money of in total EUR 100,000 is earmarked for use by Group companies in further social projects.
Kooperativa in the Czech Republic received first place in the Günter Geyer Award for Social Conscience in 2016. In 2013, the company created its own foundation to handle all CSR activities and was able to implement a broad range of projects addressing important social issues with a high level of employee participation. Bulstrad Life was awarded second place. Its social activities focus on disadvantaged children, such as children from Roma families and children with mental and physical disabilities. With support from the "For Our Children Foundation", the company helps mothers with newborn babies so that they do not have to give up their children for financial reasons. The third place winner, the Macedonian company Makeodnija Osiguruvanje, also demonstrated extensive social involvement. By, for example, redesigning a central playground in Skopje with customers, it showed that help can be provided even without financial support.
Carer with a Heart – creating awareness of nursing care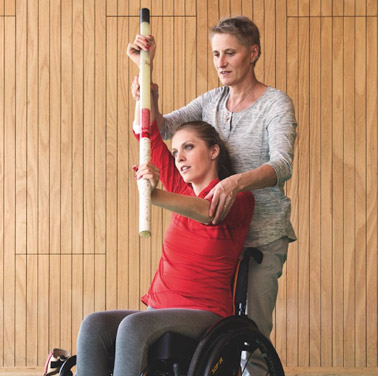 From Lake Neusiedl to Lake Constance – the search for the best carers in the country took place for the fifth time in 2016. This initiative honours individuals who are active in the area of nursing care on a voluntary or professional basis. The decision was made at the beginning of November, when a jury of experts selected two winners in each Austrian state from the thousands of submissions. The winners received EUR 3,000 in prize money donated by Wiener Städtische Versicherungsverein and the Austrian Economic Chambers.
The initiative was initiated in 2012, and the Austrian Federal Ministry of Science, Research and Economy, Austrian Federal Ministry of Labour, Social Affairs and Consumer Protection, Erste Bank and the Sparkasse banks have been partners from the start. "Carer with a Heart" (website: pflegerin-mit-herz.at) has also received support from the Austrian Economic Chambers and Austrian Chamber of Labour since 2014. The goal of the initiative has remained the same during the five years since its formation, namely to create awareness of issues in the area of nursing care and give thanks to the many family members and professionals providing nursing care.