Hungary
Hungarian insurance market
In Hungary, the two largest insurance companies represented close to 30% of the market in the 1st to 3rd quarters of 2016. The top 5 insurance groups represented around 60% of the market.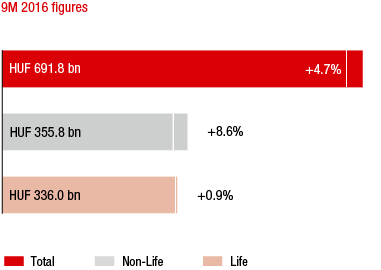 Hungary continued the positive growth trend recorded in previous years in 2016. Premium volume in the Hungarian insurance market grew 4.7% year-on-year in local currency terms in the 1st to 3rd quarters of 2016. A major part of this growth was contributed by the non-life line of business, which recorded an increase of 8.6%. Motor third party liability, in particular, achieved double-digit growth rates in the first three quarters (+22.5%).
Life insurance premiums also recorded moderate growth of 0.9% in local currency terms. Premiums in the life insurance line of business were primarily affected by the change in unit-linked insurance, which fell close to 9.0% in the first nine months of 2016. This decrease, however, was more than compensated by double-digit growth rates for tax-privileged pension insurance.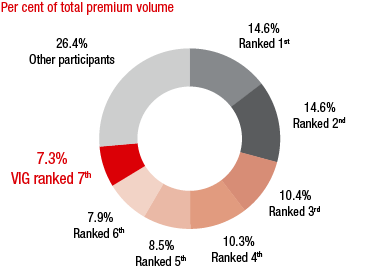 Average per capita premiums were EUR 285 in Hungary in 2015. EUR 140 of this amount was for non-life insurance and EUR 145 for life insurance.
VIG companies in Hungary
Vienna Insurance Group is represented by three companies in the Hungarian insurance market: the life and non-life insurer Union Biztosító and the two life insurance companies Erste Biztosító and Vienna Life Biztosító.
VIG's market share of 7.3% put it in seventh place in the Hungarian insurance market in the 1st to 3rd quarters of 2016. VIG holds sixth place in both the life and non-life insurance markets.
Business development in Hungary in 2016
Premium development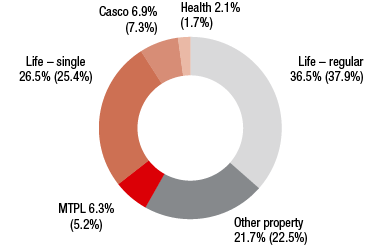 The Hungarian Group companies wrote EUR 224.23 million in premiums written in 2016 (2015: EUR 204.26 million). This corresponds to a year-on-year increase of 9.8%, which was primarily due to strong premium growth for single-premium life insurance products. Net earned premiums were EUR 174.57 million in 2016, 9.3% higher than the previous year.
Expenses for claims and insurance benefits
Vienna Insurance Group had expenses for claims and insurance benefits (less reinsurance) of EUR 132.35 million in Hungary in 2016 (2015: EUR 118.98 million). The increase of 11.2% compared to the previous year was due to the significant increase in premiums from single-premium business and higher claims expenses in the motor lines of business.
Acquisition and administrative expenses
Vienna Insurance Group acquisition and administrative expenses increased slightly by 0.6% in Hungary to EUR 38.27 million in 2016 (2015: EUR 38.06 million).
Result before taxes
Profit before taxes increased to EUR 3.81 million in Hungary in 2016 (2015: EUR -22.13 million), although it must be noted that the result in the previous year was negatively affected by EUR 24.9 million in goodwill impairment losses. In addition, a Vienna Life provision of EUR 1.0 million for litigation expenses was released in 2016.
Combined ratio
Although the combined ratio improved considerably compared with the previous year, due to the tax burden caused by insurance and trade tax it remained above the 100% mark at 103.6% in 2016 (2015: 105.3%).
Vienna Insurance Group in Hungary

| | | | |
| --- | --- | --- | --- |
| in EUR million | 2016 | 2015 | 2014 |
| Premiums written | 224.23 | 204.26 | 179.98 |
| Motor own damage insurance | 15.47 | 14.87 | 13.28 |
| Motor third party liability insurance | 14.03 | 10.70 | 10.55 |
| Other property and casualty insurance | 48.62 | 45.98 | 43.99 |
| Life insurance – regular premium | 81.84 | 77.36 | 58.63 |
| Life insurance – single-premium | 59.43 | 51.80 | 52.11 |
| Health insurance | 4.83 | 3.56 | 1.42 |
| Result before taxes | 3.81 | -22.13 | 2.98 |